Continuing my review of some Drupal PaaS hosting platforms I am taking a look at Dropsolid.
What I'm not doing is a massive deep dive on all platforms. Ultimately, your milage will vary and what you get out of these platforms will be different for most people. You will know the requirements of your project and what you need to accomplish.
Also, if you want to know more about a platform, then please contact them directly. I'm sure they will be happy to hear from you.
Based in Gent, Belgium, Dropsolid is a Drupal development agency who have built a Drupal hosting platform. The Dropsolid Experience Cloud is a platform built from years of experience in hosting and maintaining Drupal.
I met a few of the team at DrupalCamp London 2020 and they were kind enough to supply me with a key to evaluate the platform.
Pros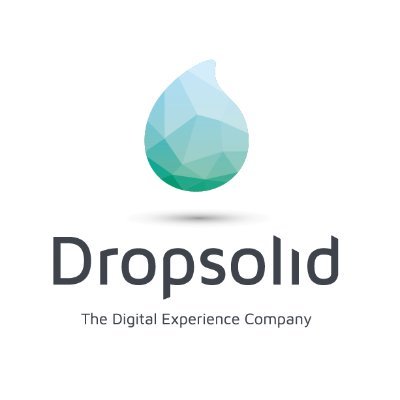 Deployments are baked into the platform. There is no need to rely on services like Travis to build the code as the act of deployment is part of the platform itself. Of course, if you want to stick with external CI tools that option is available to you as well.
Multisite Drupal hosting comes as standard and can be easily managed.
One absolute standout is a little feature hidden in the menu of the dashboard. The ability be attached to more than one active organisation and to be able to swap between those organisation is a really interesting feature. I'm certain this is useful to many organisations and contractors. It certainly helps trying to figure out what site is connected to what company.
Every page on the dashboard feels really slick and things pop and animate to notify you of events in a non-intrusive way. There are lots of little things that really add to the experience of using the site. Like the use of LoremFlickr images as placeholders for profile images for users.
The Dropsolid Experience Cloud is perhaps the most mature personalisation platform I have experienced. Everything is built upon Mautic to handle the data and Unomi to handle the AI around viewing that data. The demo I saw in DrupalCamp London 2020 was very impressive and showed that clear thought had been applied to all aspects of the product.
The platform is hosted on Google Cloud and is container based. This means a high degree of availability with automated load scaling support included.
Automatic backup and restore.
Memcache available.
Solr search (including multilingual support).
Local Varnish based CDN.
Let's Encrypt certificates built in, with the ability to provide your own.
Configuration of site allows for the inclusion of password protection without the need to install the Shield module.
The cost model is pretty reasonable.
Cons
Quite a new contender in the specialist Drupal hosting world as I have only seen it in the past couple of years. Although the platform hosts some 800+ sites, so certainly doesn't lack maturity.
Because Dropsolid is a Drupal agency I think there can be a little confusion about where the agency stops and the hosting product begins. I had a little bit of trouble going from their home page to my hosting dashboard. I'm sure I was just missing something, but some extra signposting might be a nice idea.
Relatively small number of page views per month for the basic tier.
Dropsolid do not offer hosting for any other type of CMS. This isn't absolutely a bad thing, but I thought it was worth mentioning here.
Dashboard
An overview of a development site on the Dropsolid platform.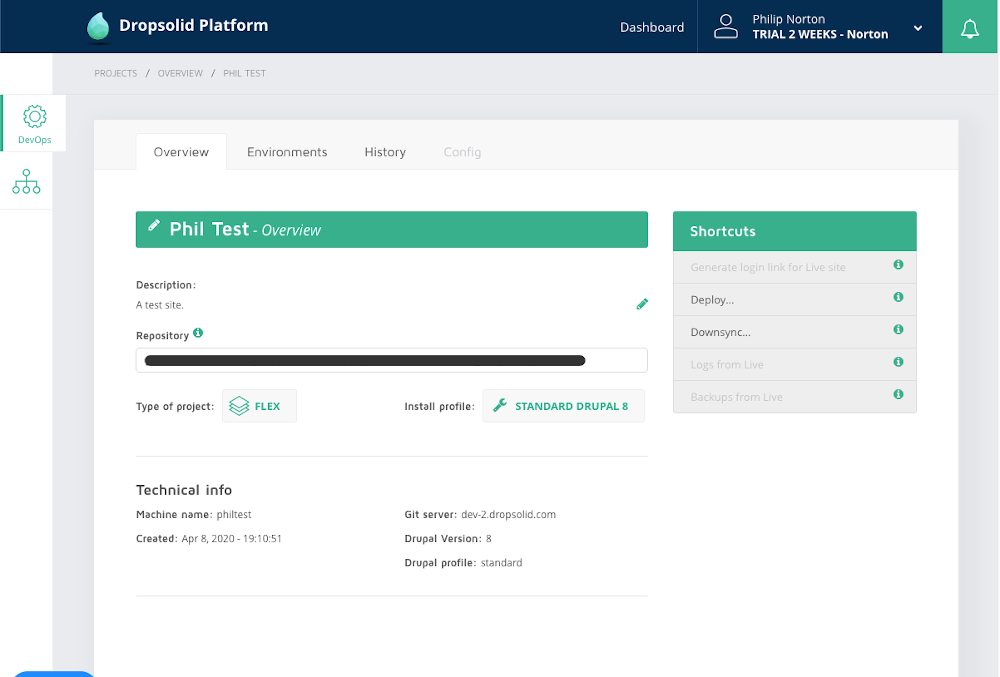 An overview of the environments available for a development site on the Dropsolid platform.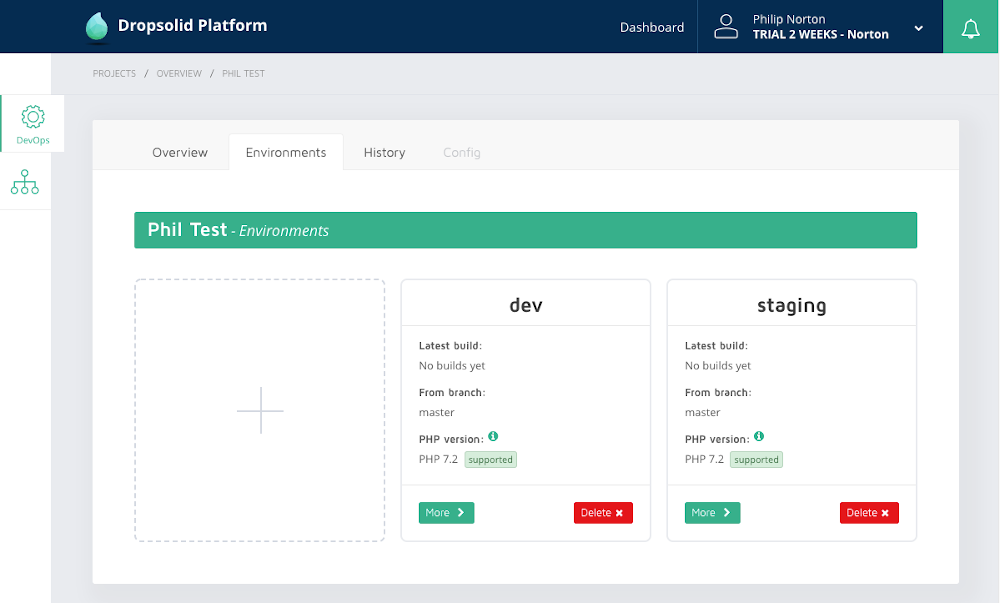 An overview of the available actions and configurations for the development environment in the Dropsolid platform.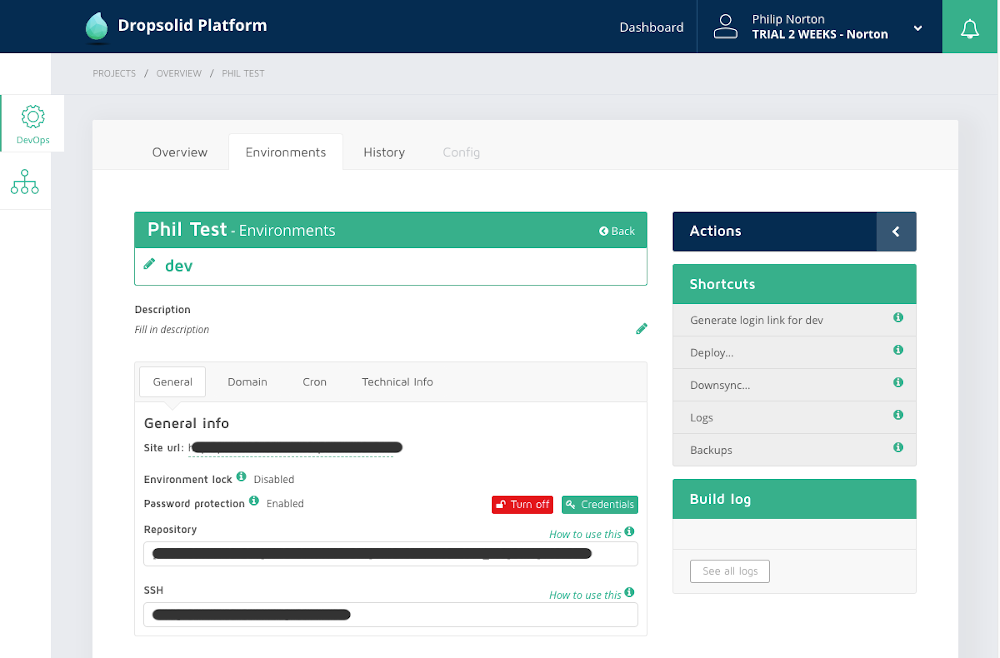 Conclusion
I remember hearing about Dropsolid during the Drupalgeddon patching process a few years ago. Whilst my colleagues and I were up all eventing patching and deploying the patch to our sites, Dropsolid announced that they had finished patching 800+ sites in about 20 minutes. That certainly got my attention, so when I saw them at DrupalCamp London I was keen on giving their platform a go to see what it was like.
Whilst I realise that I only had a short demo and I didn't delve into the platform very deeply, I think I had a good grasp of what was available. I was able to setup my codebase without any problems using their built in git repo and then deploy a default Drupal site using the Umami profile. Once installed I ran a couple of deployments and configured the service using the built in admin dashboard. It was all pretty easy to use and understand what was going on.
The platform has its own git host, so you can use it to store your source code. Not only that, but you also don't need to commit your composer vendor directory into your repo, the service will handle all of that for you with built in deployment processes. I should note that it is also possible to host your git code elsewhere and sent it to Dropsolid when creating a build. So if you are used to using github then there is no need to shift everything over. You can keep using the platforms you currently use.
The container based approach to the platform is clearly a benefit. I had a go at continuously visiting my site during a deployment and there was zero detectible downtime. The fact that load balancing is built in means that you can scale as much as you need to, but also downscale when you don't need that extra capacity.
Whilst at DrupalCamp London 2020 I also saw a demo of Mautic and Unomi working together with their Drupal personalisation module. The demo showed that everything was very clearly thought out from start to finish, even though the code in use isn't fully released yet. The Drupal module handles how the variations of paragraphs are stored and managed on a Drupal site and how they are replaced for different users. Mautic is used to handle the customer data and Unomi is used to assign the current user to one or more segments so that they can get a personalised viewing experience. The fact that this is built into the platform makes Dropsolid a key product in the Drupal PaaS sector.
I have to say I was really impressed by everything I saw with Dropsolid. The platform dashboard itself is really nicely designed and I was able to configure or inspect the necessary aspects of my test site with ease. The tools on the platform were really well thought and and I had no problem pushing code and running deployments without reading reams of documentation (everything just made sense). I didn't use their support systems (other than getting the key), but having seen what the team at Dropsolid have built and what they provide outside of the platform it's clear to see that they are a talented bunch. I would really suggest that you give Dropsolid a look the next time you are looking for a Drupal hosting service.
What is your opinion of Dropsolid PaaS hosting product? Comment below and let me know. I'd be interested to hear your experiences.
More in this series