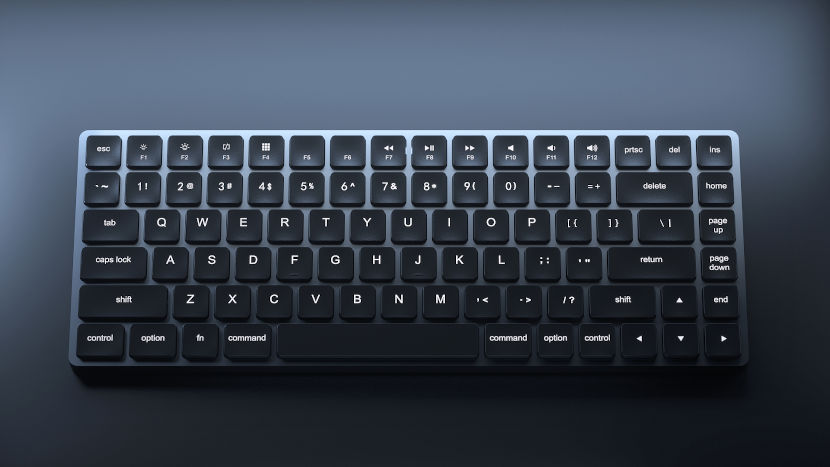 Vissles recently sent me their new LP85 keyboard to review, and I've spent a few weeks giving the keyboard a go.
I have already reviewed the V84 mechanical keyboard from Vissles just a few months ago and that keyboard has been my daily driver ever since. I was therefore very interested in testing out this new product.
The Vissles LP85 is a low profile keyboard that is only 12mm thick. It has an aluminium chassis that holds 85 optical keys.
What are optical keys? Instead of the usual mechanical switches that make a physical connection, optical switches break a beam of infrared light to activate the key press. As there is no physical switch being clicked this means that optical switches last longer than mechanical ones.
It is available in black and white varieties with either a Windows or a Mac key layout.
Build
The LP85 keyboard is fantastically well built. Everything feels really solid and well put together, including the keys and the bluetooth toggle switch on the back. The solid aluminium chassis gives the keyboard very little flex meaning that you have a solid surface to type against.
Even though it's a solid feeling board, it only weighs about 500g. It has some really big rubber feet on the bottom so there is no chance of it moving around when in use.
You can link the keyboard up to 3 devices and swap between them quite easily using a combination of the Fn key and the q, w or e keys. Of course you can also plug it in using the build in USB-C connection. I quite like the USB-C connection as it means that this fits in with my other keyboards and other USB devices that I have in my office. The built in 2000mAh battery means that you can use the keyboard wirelessly for days before it needs to be plugged in, even with the lighting effects turned on.
The package contains the keyboard, a nice feeling USB-C cable, the instruction manuals and some stickers, all in a well protected box.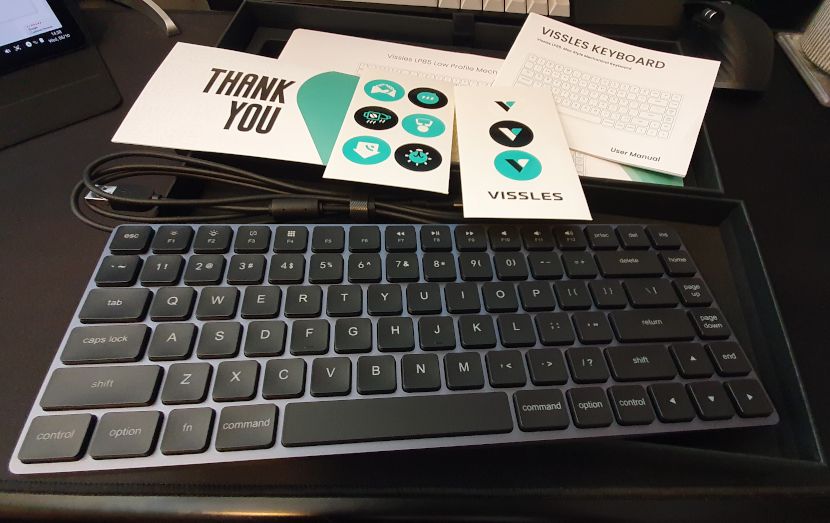 Each key has an RGB light underneath it, with options to select from 19 dynamic and 8 monochrome modes. These modes can be easily changed using a combination of the Fn and delete keys. There are also options to increase or decrease the brightness and speed of the light effects, or even change the direction that the lighting effect pulses in. It is also a nice touch that the caps lock key has a light that toggles with the function of the key, so you can easily tell when it is on.
I have two other keyboards that have RGB keys, but the light they produce pales in comparison with the light from the LP85. This keyboard is colourful, vibrant and really stands out, even in a lit room. Of course, you can still turn off the lights if that's not your style, but if you like RGB colours then this keyboard will impress.
Typing
So how's the typing experience? Well, I have to admit that coming from a full size mechanical keyboard to the LP85 caused a few problems as I had lots of typos and mistakes for the first day. I work from home and do a lot of typing every day, so this did cause a bit of a hinderance for me. After a couple of days, however, I started to get the hang of it and typing became much easier. I think the low actuation point and travel distance of the keys might be an issue if you aren't used to it. If you are coming from a laptop keyboard then the short travel distance might not be a problem.
Having optical switches doesn't mean that the keys feel spongy or loose. Quite the opposite in fact. The keys on the LP85 feel very good and it's almost like typing on a normal mechanical keyboard with physical keys. There is obviously a smaller travel distance due to the slim design, but the keys still feel satisfying to type on.
One thing I would say is that typing on the keyboard is very loud. It's comparable to the noise produced by Gateron blue switches, which is quite surprising considering the thin keyboard design. The solid build of the keyboard means that the sound is not hollow, like some other keyboards can sound. The keys certainly don't have the spongy or bubbly feel that most slim keyboards have.
Conclusion
Overall, I'm very impressed with the Vissles LP85. It is a sturdy little keyboard that should give many years of hassle free typing. The slim and lightweight design means you can throw it into a bag and take it with you wherever you go. The large battery also means that it will give you hours of hassle free wireless typing without needing to be charged.
It took me a little bit of time to get used to it, but once past that I found it a great experience that can easily keep up with the amount of typing I do every week.
If you are interested in getting a LP85 then the good news is that Vissles are running a Kickstarter until December 2nd 2021. All you need to do is visit the Vissles LP85 Kickstarter page and pledge for the package you want. As the LP85 is available in Windows and Mac versions with black of white keys so you'll need to pick your preferred model. They are currently retailing for $99 (about £73) as well as shipping costs and are due to ship in January. I think that is well worth the money.
If you miss the Kickstarter then I'm sure that the keyboard will be available on the Vissles store going forward. It's such a nice little board that it would be a shame for it to have a single Kickstarter and then be forgotten about.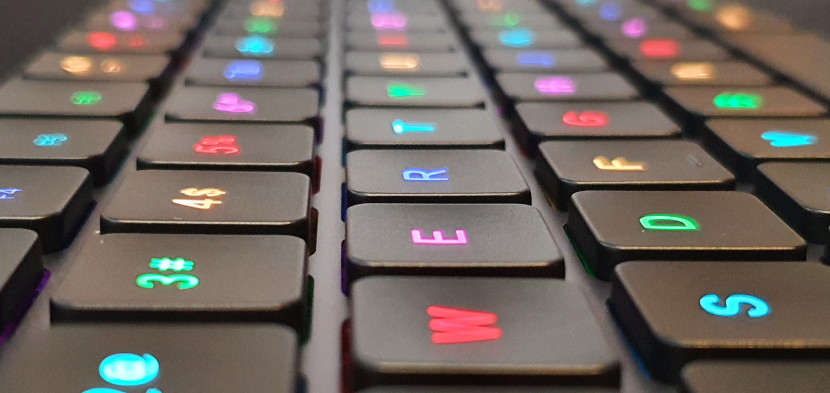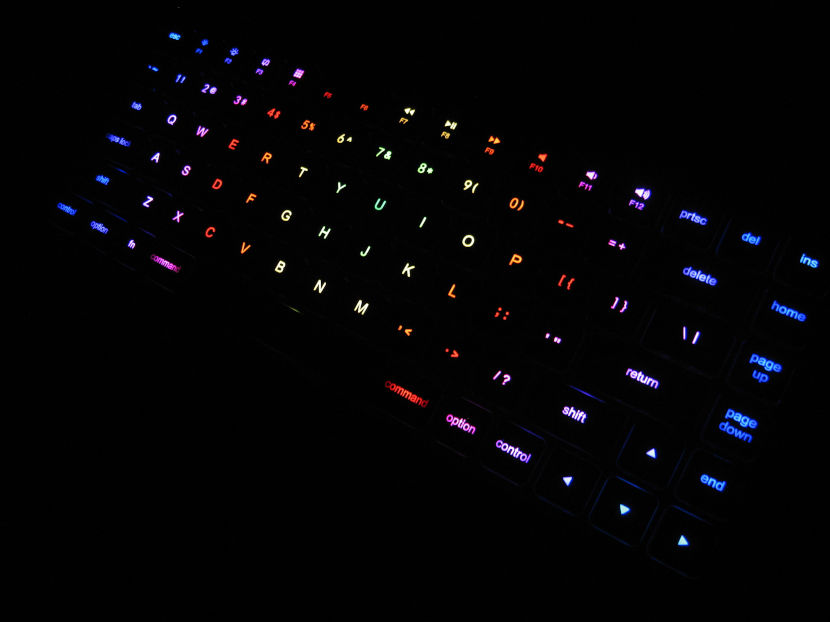 Specifications
Mode: Bluetooth/Wired mode
Layout: Mac/Windows
Colours available: Black/White
Number of Keys: 85 keys
Backlight: RGB dynamic backlighting
Bluetooth: 5.0
Bluetooth Name: Vissles LP85
Port: Type-C
Battery: 2000mAh
Switch Type: Low profile optical switches
Actuation Force: 50±10gf
Pre-travel: 1.2±0.30mm
Total Travel: 2.5±0.30mm
Slope Angle: 2°
Weight: 0.547KG
Dimension: 12.1"×4.6"×0.6" (307.6×118.1×15.1mm) (Footpads and keycaps included)
Board Height: 0.31"-0.34"
More in this series