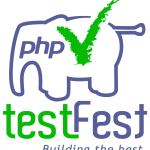 PHP TestFest 2009 is a series of events that you can go to and learn how to test PHP and make new friends and contacts in the PHP community.
One thing that concerned me was that writing these tests might require a in depth knowledge of C++ but this is not the case. Each test is just writing a few lines of PHP code (preferably no more than 10) which will have a known outcome. The tests will be run and the output compared to the expected outcome. For more information about writing tests please refer to the phpt test basics page from the PHP site.
There are events all over the world, but I will probably be attending the one in Manchester (organised by the PHPNW user group) so if you are going I'll see you there!
This is your chance to get involved give something back to the PHP project!